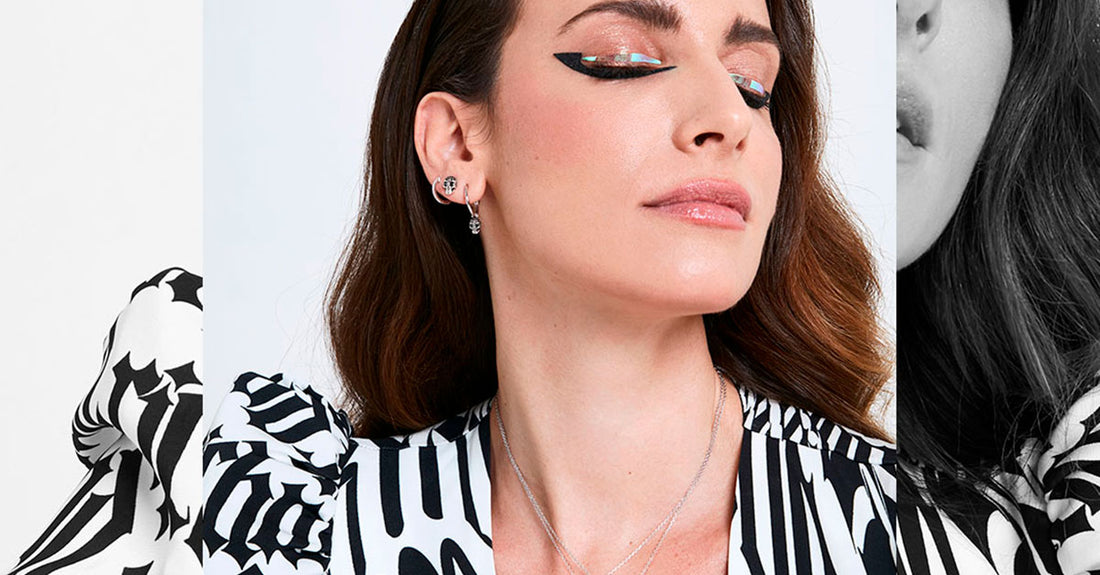 The 5 silver jewels that you will want to release this summer 2020
We are already dreaming of summer, of going out and being able to wear the most comfortable and current looks. There are many of us who are taking advantage of this parenthesis in our lives, called Coronavirus, to search the Internet fashion accessories that catch our attention. We dream that soon we will be able to combine them with the warmest looks.
Because yes, since ITEMPORALITY we bet on the fashion accessories as key pieces that come out of your comfort zone. The latest trends in jewelry show us that silver jewelry they complement our personality on a day-to-day basis, which is why we wanted to get a little closer to that reality. We have made a selection of the silver jewelry that will take center stage when temperatures begin to rise. When our outfits are infected with color and floral prints.
Earrings skull shaped
For a few seasons, the silver skull jewelry they have occupied a great place in our looks. We in ITEMPORALITYWe consider that you either love this symbol or you detest it because of the values it transmits.
Do you know the meaning of the Skull? This symbol comes to tell us that life must be celebrated. The skull is a whimsical shaped sugar skull that is used in Mexico to celebrate the Day of the Dead. It is a symbol that honors the deceased with light.
The earrings Skull hoop give that chic and rocker touch to your look. The manual for wearing these earrings silver? Wear them like a fashion accessory special, combine it with a simple summer look and let its strength make you shine.
Color-filled silver necklace
The silver jewelry they become the perfect accessory in the most summery looks. They are the perfect fashion accessory to give that special touch to a summer dress. Who has not noticed the simple look of that girl who radiates elegance? And ... after analyzing it, we see that the colored necklace is its remarkable complement!
Since ITEMPORALITY we propose the Vamana silver necklace What trend for this summer 2020. We are fans of color in summer, and that is why the yellow gold, blue chalcedony and iolite tones of this necklace are the perfect mix.
The fashion specialists, They have already warned us that colors are the safest bet for the new season. Advice to combine it this summer? Be yourself and express yourself through the different shades. Remember that we recently talked in our blog about the meanings of the colors in jewelry.
Ruby silver bracelet
An aesthetic that never goes out of style and tends to make a dent season after season are colored bracelets. The women bracelets They are very versatile and are a success in any look you can imagine. They always complement your wrist: from the classic summer outfit to a more elegant evening outfit to go to work at the office.
Our best bet for this summer 2020? The ruby color of the zircons of the silver bracelet Love. This silver jewel will bring light to your wrist. The Riviere bracelet in sterling silver with ruby zircons will be the fashion accessory perfect to wear any summer afternoon. It doesn't matter which summer print you combine it with because its brightness and color will match perfectly.
If you are one of us, you will agree that the women bracelets They are the perfect accessory to give off distinction and personality. Combine them and make your own summer look. The choice is in your hands!
Silver ring with rose quartz
We continue in the line of color and add precious stones. We want this summer 2020 to be full of good vibes!
As we tell you in our post Gift ideas for Mother's Day, rose quartz is the stone par excellence to represent infinite love and the balance of tranquility. Hence, it is one of our bets for this summer 2020. Without a doubt, it will be a season in which we need relaxation.
Since ITEMPORALITY we propose the bangalore ring, a silver ring with a rose gold color bath that will accompany you on your most special days. The ideal touch for your summer Saturday looks! Trick to show it off? The trends for this summer 2020 they have made us envision it with an openwork shirt. An aesthetic, of course, that will make you look fashionable.
Gold colored earcuff
Trend alert! Are the latest trends your passion? So this summer 2020 you will want to wear the new ones earrings silver known as Earcuffs. According to fashion specialists, this type of earrings they were worn more than 70 years ago. It is clear that we love to bring back the trends of our ancestors!
The gold Earcuffs are our biggest inspiration for this summer. If you are one of those who wear their hair up in summer, these earrings they will look perfectly on your face. You can combine them in different ways (our favorite is joining the cartilage with the lobe through a simple piece). The beauty of your ear will take center stage this summer.
We invite you to discover the Triple Gold Earcuffs. Welcome rebellion with these earrings silver! Choose the favorite place on your ear to wear these triple earcuffs and take the step towards a more daring look.
Bold, ethnic, pastel or elegant style. They all have a main place in the trends for this summer 2020! According to fashion specialists, we will choose to give light to our looks. Advice? Fill your jewelry box with the latest news and get ready for a different and unforgettable summer!
Since ITEMPORALITY we are with you to get you silver jewelry unique ones that define you. Wear them as you feel most comfortable. In minimalist mode or combined with others in a more classic or modern style.